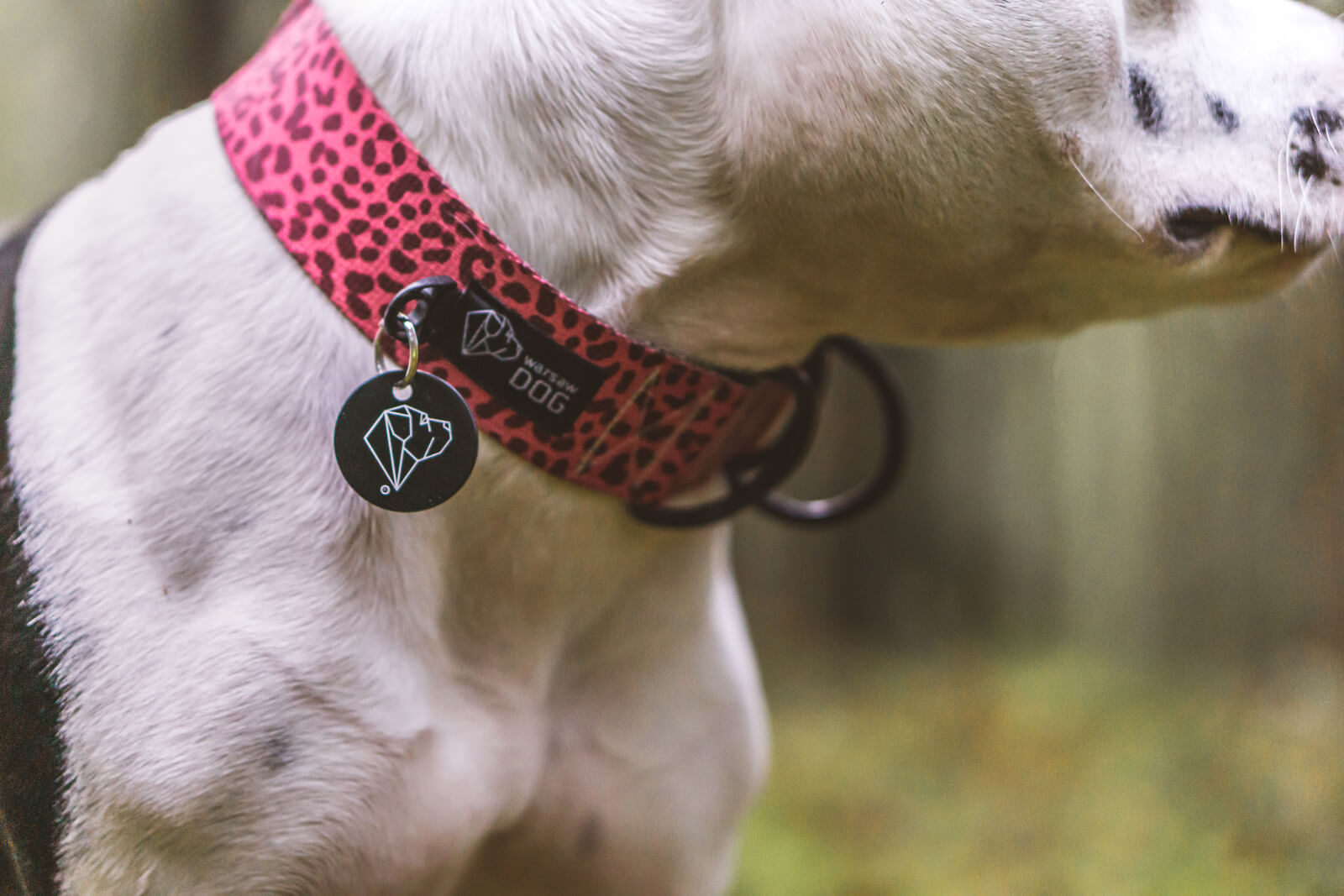 Classic dog collars with DURAFLEX ® buckle
Classic dog collars next door harness, are the most frequently chosen accessory for a dog. They are made of The highest quality materials and feature high wear resistance. The buckle as well as the rest of the plastic parts come from DURAFLEX® - a patented material that combines the elasticity of rubber with the wear resistance of polyurethane. Each collar with a buckle has additional addresseeon which you can engrave any content - always, for the safety of your pet, we recommend engraving his name and your phone number. Remember! Every collar we sew to order, so you can be sure that if we sew the one ordered by you, we focus on it in 110% :)! If you want to match the collar leash, or other accessories for dogs, use the menu to find other products from the same collection, or go directly to the dedicated subpage where all products from a given collection are listed!
What is a collar with a buckle?
A collar with a buckle is a classic and very popular solution for fastening a dog. It is one of the most popular accessories, functional and comfortable. A plastic or metal buckle makes it easy to fasten and unfasten the collar on the pet's neck, and the attached hook (circle or semicircle) allows you to easily attach a leash on a walk in order to control its behavior.
You can also attach to the collar badge with the dog's name and phone number owner, which can significantly facilitate the search for a four-legged friend when he is lost. The buckle used to fasten both ends of the strap together ensures easy circumference adjustment, which guarantees optimal adjustment of the collar to the pet's neck.
Collars with a buckle are recommended especially for dogs with classic proportions, i.e. those with a head wider than the circumference of the neck. Since in this type of collars the buckle is an important element that guarantees the safety of use, it is worth focusing on strong, durable solutions in this regard.
What are the advantages of a collar with a buckle?
One of the greatest advantages of this type of collar is the ease and speed of putting it on and taking it off. In addition, the collar with a buckle:
it has a straight or profiled clasp that makes it easy to adjust the collar to the shape of the dog's neck, ensuring safe and comfortable use;
well-adjusted, it adheres to the dog's neck, preventing accidental hooking of the collar strap when the pet is not on a leash;
once properly adjusted, it retains its size;
good quality, it is resistant to changing weather conditions (especially high and low temperatures) and contact with water;
It retains its properties even at a temperature of minus 20 ° C;
it is available in all sizes (both lengths and widths) and many color variants;
it is easy to care for.
What characterizes collars with a buckle from Warsaw Dog?
Personalized collars with a Warsaw Dog buckle are elegant, comfortable and practical. They are characterized by the highest quality of components that are super light and at the same time durable and wear-resistant. The surface of the collar strap is smooth to prevent sweat and dirt from sticking to it. Durable materials perfectly cope with the biggest challenges. They are resistant to weather conditions, UV radiation and water. In addition, they are particularly easy to care for.
All fittings are stainless, reliable and extremely functional. Careful workmanship and proven quality of the collar ensure a particularly high level of comfort for the pet and guarantee safe use and perfect adjustment to individual needs. All collections of the Warsaw Dog collars are aimed at caregivers who, apart from taking care of the comfort of wearing, want to stand out on their daily walk!