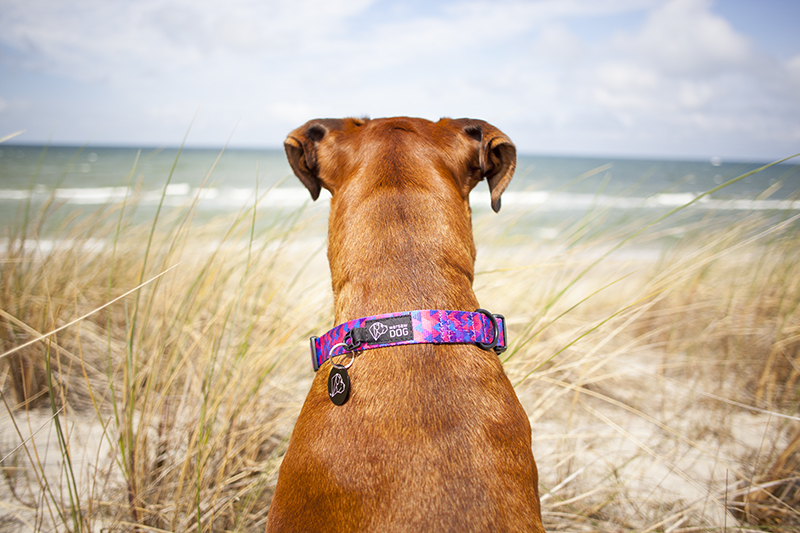 Elegant dog collars | Warsaw Dog
Have you started your adventure with looking after your pet? Time to replace your dog's collar? Or maybe you have just adopted an adult dog who has never had a chance to get acquainted with the collar or with a leash? A dog collar is an indispensable gadgetbecause that's what you can pin leash during your walks. And because you will be walking very often, especially if you are looking after a puppy, the first collar in the life of your pet must appear very quickly - probably as soon as merchant :). Puppies get used to it even after a few days. You can also attach it to the collar addressee. Are you wondering what collar to buy for him? You've come to a great place! In our store, we offer three types of dog collars. Each type of collar comes in several sizes and widths, so Here you will find collars for small, medium and large dogs. If you have any doubts, please contact us! We are happy to dispel any doubts about the choice of a collar for your dog!
Collar in the main role
A collar is the basic element of every dog's equipment. It provides the pet with optimal freedom of movement, and putting it on is quickly accepted by most four-legged friends. This is an important accessory to which you can attach a lanyard or an addressee with up-to-date contact details. In addition to the function of supporting the owner in the correct handling of the pet, it plays an important role in training, upbringing and, of course, in terms of aesthetics.
Regardless of whether you are just starting your adventure with caring for a dog, or you have decided to buy a new model for an adult pet, you will need a failure-free, personalized collar. After all, it will be used every day, and your four-legged friend should feel safe and comfortable in it. Regardless of the breed, size or temperament of your pet - at Warsaw Dog you will find the right collar for every dog. Thanks to a wide range of dog accessories, you can easily choose a variant that will perfectly match your pet.
Tailor-made collars
At Warsaw Dog, we value high-quality workmanship, solid materials and reliable service. We will be happy to make your choice easier. In our offer you will find solid, practical, functional and stylish dog collars in three types. We offer the highest quality assortment in many sizes, widths, colors and designs. It is worth taking a moment to browse our offer and find an accessory optimally suited to the needs of your four-legged friend.
We offer a wear-resistant, comfortable classic dog collars with DURAFLEX® buckle. The adjustable collar with a buckle makes it easy to put on and take off the collar, and the soft, light, durable material guarantees comfort and wearing comfort. The buckle, as well as other plastic elements made of wear-resistant polyurethane, ensure solidity, reliability in use, during walks, play or sports.
We also offer half-clamp collarswhich are popular with owners of dogs with a neck wider than the head or those who can easily free themselves from a standard collar. Adjustable collar made of durable tape is put on over the head. When attached to a leash and gently pulled, the collar reduces its circumference to fit the circumference of the dog's neck. This way, it prevents your pet from getting its head out of the collar. The collar ensures safety and comfort of use, and the owner can be sure that his pet will not get out of it during a walk. This type of collar also works well during various types of training, including learning to walk on a loose leash.
We also have functionalities in our assortment martingale collarswherein the clamping element is designed as a loop. Each pull on the leash reduces its circumference to the point set on the collar. When the dog stops pulling, the collar loosens again. The construction of the collar ensures the dog's safety, eliminating the risk of suffocation. Martingale collars they are extremely durable and light. Reliable stainless steel fittings ensure trouble-free use while walking and exercising. All collars are sewn on an individual order and equipped according to special wishes.
How to choose a dog collar?
Our dog collars are available in various variants, so you can choose the accessory optimally suited to your pet. When choosing the right model, you should take into account the circumference of the neck, the thickness of the hair, the temperament of your four-legged friend and the purpose of using the model. It should be remembered that the collar should not fit too tightly against the skin, nor should it be too loose. In addition, an important indicator when choosing a collar is the width of the strap (should be selected in proportion to the size of the neck), the material that should be durable, practical and gentle to the skin, and the clasp that must be reliable and strong. Considering these elements, it is undoubtedly worth focusing on the high quality of products offered by Warsaw Dog, ensuring both the comfort of wearing, resistance to wear and priceless safety during operation.